Posts Tagged 'DTE Energy Music Theatre'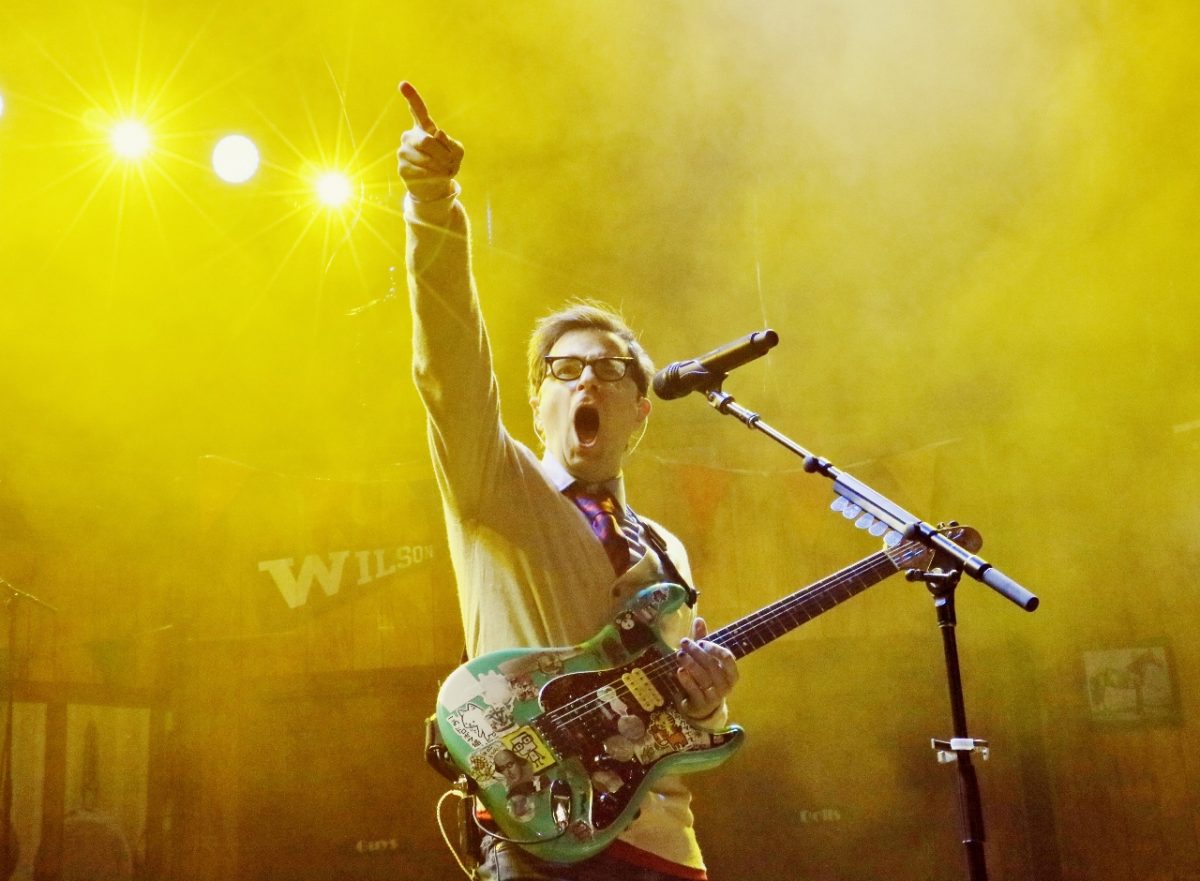 Pixies and Weezer joined forces to the delight of music fans at DTE Energy Music Theatre on Friday July 13th.
Pixies have always been gentleman (and a lady) that make the kind of music they want to make… music that is completely atonally recognizable. That fact was on grand display from the moment the band started their set.
Pixies began their night at DTE in Clarkston, MI walking onto the stage and taking to their mics (or drum set).
Bassist Paz Lenchantin addressed the silent and waiting crowd acapella with the unmistakable "Ooohh" from "Where Is My Mind". Paz displayed a red flower at the end of her bass, adding a lovely touch. After several "Oooh"s, fellow Pixies joined in, and the epic track began full force. Lead vocalist Black Francis strummed away on a beat up acoustic guitar.
Pixies have been a strong presence in the music scene in the late 80's with the release of their first stand-out LPs, Surfer Rosa and Doolittle.
After a break-up and hiatus that lasted over a decade, they reemerged (sans bassist Kim Deal, plus Paz Lenchantin) with tours that led up to the release of 2014's album Indie Cindy.
Most recently, the band released the awesome album Head Carrier in 2016.
Pixies breezed through their set, letting the incredible music speak for itself. Throughout their set, the band was bathed in smoke and colorful lights that added a great feel and emphasis on each song.
Around mid-set during "Vamos", guitarist Joey Santiago put on quite a show while removing his hat and sliding it along his guitar strings. He even created some effects with his amp cord. After the sonic display, he tipped his hat and gave a small bow as the crowd cheered.
For "Gouge Away", vocalist Black Francis swapped out his acoustic guitar for electric, for the first time that evening. The terrific lead singer remained electric throughout the night.
After Surfer Rosa's jam, "Cactus", the band presented an awesome cover of "Winterlong" by the great Neil Young.
Pixies portrayed jams from across their discography with notable contributions like 2014's "Silver Snail", 1990's "Ana", and (to the delight of the crowd) Doolittle's "Mr. Grieves". Several knowledgeable audience members nodded their heads, and sang along to each song. It was obvious that fans had turned out in droves to welcome the night's co-headlining act.
Pixies also represented tracks from Head Carrier with jams like "Bel Espirit", "Um Chagga Lagga" and "All I Think About Now".
After "All I Think About Now", Paz Lenchantin exclaimed, "Thank you Michigan." The audience responded with cheers.
Pixies closed out their night with the memorable songs "Debaser", "Hey" and "Gigantic". With over 20 songs under their musical belt, Pixies took center stage to bow together. The crowd positively erupted. Joey Santiago once again tipped his hat, and the exceptional band exited the stage.
Pixies have definitely had an influential hand toward Weezer, as well as many other notable artists, so the pairing made for a smooth transition from one band to the next.
After Pixies wrapped up their night, some rearranging was done, and the stage was set for the evening's closing act. The atmosphere of the packed theater was electric with anticipation.
A piece of black fabric that had concealed the set up dropped, and Weezer began their set of non-stop rock. Weezer did not shy away from their big hits and well-known songs, starting out with 90's staple, "Buddy Holly" (complete with the throwback intro). Appropriately, lead vocalist Rivers Cuomo donned an ivory sweater, button-up shirt, tie, and black spectacles.
Next up, Weezer jammed into "Beverly Hills", with the front row going wild!
For "Pork and Beans", the band swapped vocals for a few lines between band members, with a huge cheer from the crowd for each gentleman's contribution.
Their stage was decorated with backdrops much like a living room, with high school pendants (one reading "Jefferson High School", others with the band member's last names), and even a picture of a fish. A color-changing neon "W" completed the vibe.
Next on the docket was "Undone – Sweater Song", which filled the theater with cheers, smiles, aisles full of dancing folks, and many singing along.
Memorable riffs continued with "Hash Pipe". Lead singer and guitarist, Rivers Cuomo did not remain a stranger to positively shredding on his guitar. Often times he'd head to center stage, as close to the fans as he could be, wailing away.
During "Perfect Situation", guitarist Brian Bell maneuvered around the stage, at times even standing atop some amps. The audience sang along to the closing chorus' "Ohhhhh oh"s.
The stage set up changed, and the living room lifted away. In its place emerged a garage with a total jam feel: white door, rock god posters, and even some hanging tools. A recognizable golden light up W raised to the forefront as well. Soon after, Rivers' sweater was torn away to reveal a red shirt underneath. The crowd went crazy for the outfit change.
During "El Scorcho", Cuomo replaced "Green Day" with "Pixies", endearingly singing, "I asked you to go to the Pixies concert with me". The audience cheered, nodding to the evening's excellent opener. When the song wrapped up, Rivers shouted to the crowd, "Detroit! Michigan! Clarkston! M-I! Welcome to Weezer time!"
After "Troublemaker", Rivers exlaimed with a wave, "Alright children! Let's take it back to 1994, The Blue Album. This is 'In The Garage'". After the fitting track, amist posters of AC/DC, Motley Crue and Kiss (to name a few), Cuomo kept the dialogue rolling.
"Now we're gonna go back to the 1960's when it all began with a band called The Turtles. It's called 'Happy Together'. 1-2-3". Everyone in the audience sang along to the warm and timeless classic. Weezer slipped in an interlude of Green Day's "Longview", still including the fellow rockers, sans "El Scorcho" lyric. Cuomo held up his mic to amplify the crowd, who were singing back to every note.
When "Happy Together" concluded, Rivers quickly put on a sailor hat and white nautical jacket. He waved, and ran into the crowd, high-fiving through an aisle as he moved upward. Other members of the band took on the singing duties of "Keep Fishin'".
Cuomo made his way through the theater and to the waiting S.S. Weezer (a small wooden craft). Folks at the back of the theater and out on the lawn were delighted at their suddenly closer seat to all of the action. Upon reaching the vessel, Rivers declared, "Hello!" He placed a white guitar across himself and started into "Island In The Sun", yet another of many songs whose beginning thrilled the crowd. Phone flashlights and lighters soon emerged, swaying in the dark.
After holding out one of the final "mooooooooreeeee" notes to close out the song, Rivers continued, "Ok. Cool. I'm going to try one of my favorite songs of the 80's by a band called a-ha. This is 'Take On Me'". The delighted crowd sang along, even to that impossibly high note. Rivers encouraged the fans to clap along to the closing guitar riff, and they answered happily with applause.
"Yeah! Thank you Detroit!", Rivers shouted.
"That was dank!" came from the stage. The band played "Burndt Jamb" while replacing lyrics with those from "Smells Like Teen Spirit" as Ribers made his way back to the stage atop the S.S. Weezer.
"That's right Rivers, you come on down!" Cuomo reappeared from the side of the stage with a black headband and maroon sleeveless Weezer tour shirt. The band rolled through, "I Want You To", and into new track, "Feels Like Summer". Amplifying the hot night, flames shot up from the sides of the stage and out of the golden W during the fun chorus. When the seasonal single finished, Rivers asked the crowd, "Are you ready to be blessed? Are you ready to be blessed with the rains? Africa!" Weezer began into their latest single and long-awaited cover of Toto's "Africa".
Afterwards, the band exited stage left with a wave. The crowd never stopped cheering for a second, encouraging their favorite band to play a few more jams. Weezer soon reemerged, returning with Rivers spitting H2O into the air.
"Just a wee bit more rock before we go please!" The crowd could not agree with this statement more.
After 1996's "The Good Life", Rivers showed his gratitude again.
"Thank you, Detroit! One more! Say It Ain't So!" The fans kept the trend of singing loudly along going, as a wall of sparks fell at the back of the stage, mimicking the feel of celebratory confetti. Weezer briefly melded into Black Sabbath's "Paranoid" to close out the show.
Weezer waved and kept shredding to the crowd, til the very last note. Rivers lifted his guitar, then mic stand high. All fellows from Weezer formed a line and bowed together. The audience cheered and yelled back their appreciation for the indelible night.
Over the years, Pixies and Weezer have both left a lasting impact on the music world, and are sure to leave audiences impressed at every venue the tour visits.
Weezer and Pixies Summer Tour 2018 will continue across the United States into August, wrapping up in Omaha at Maha Festival on August 18th.
Review and photos by: Tiffany Cuthrell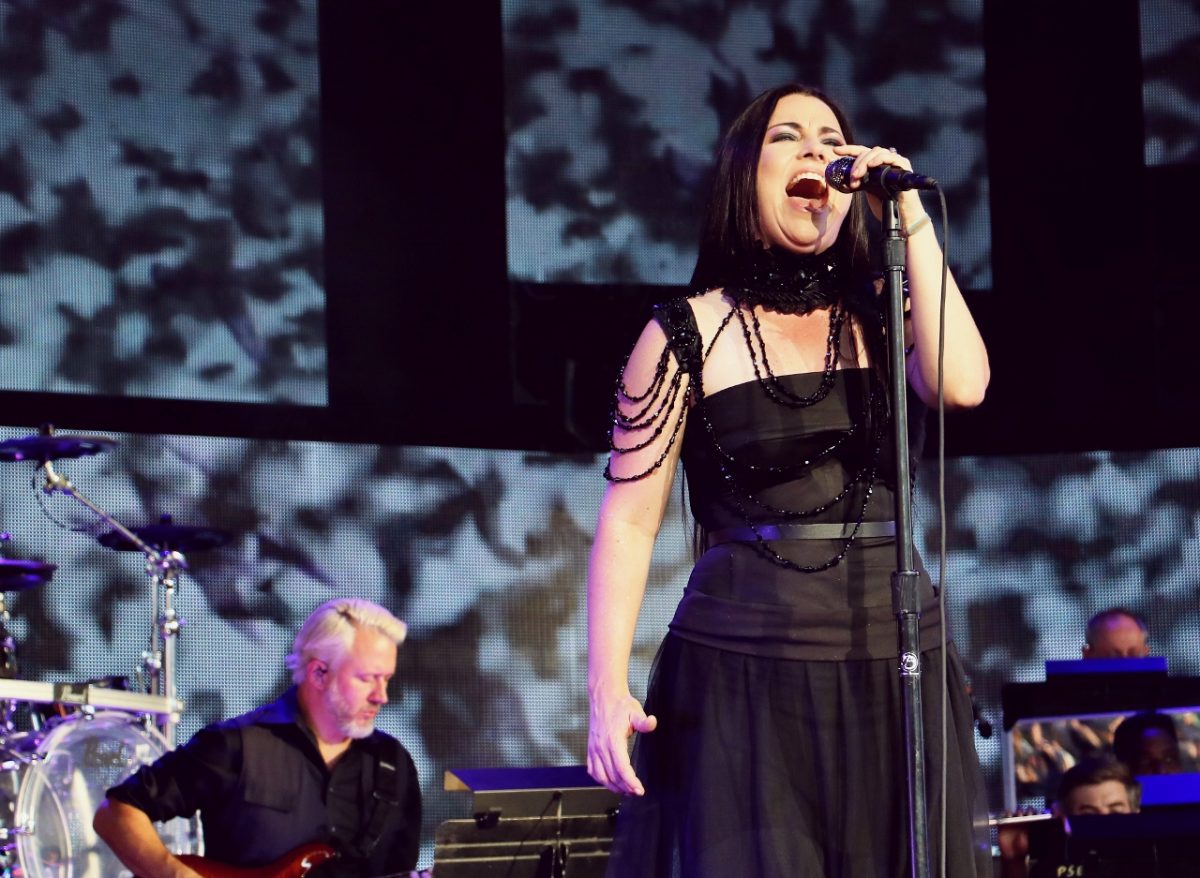 Powerhouse band Evanescence and Lindsey Stirling positively delighted DTE Energy Music Theatre in Clarkston, MI to an exceptional night of musicality on Monday July 9th.
Both acts were joined onstage by a talented live orchestra, which gave their songs a bigger than ever feel.
Evanescence has been a force in music since the early 2000's with their debut album, "Fallen". In 2017, they returned with a welcome voice to the music world releasing their newest LP, "Synthesis". "Synthesis" includes new tracks, as well as reworks of previous material with an exceptional orchestral sound.
Since the Evanescence and Lindsey Stirling tour is a co-headling tour, the bands swap order each night to not make either feel more or less important than the other.
Evanescence was first on the docket, starting their night at just about 7:45. The sun was still gleaming into the amphitheater before setting over the horizon.
The orchestra was seated first, and a couple of minutes later, the beautiful Amy Lee emerged from stage right. The audience roared with applause at her presence as she waved with a smile. She seated at a black Steinway and Sons piano and began into "Overture", the opening musical piece from their latest album.
After the minute or so of song, Amy stood to take the mic. Next up was "Never Go Back", redone from the band's self-titled album. The pairing of Evanescence and orchestra was a truly breathtaking soundscape.
During "End Of The Dream", a flurry of birds projected on the screen behind the musicians. Ms. Lee's voice soared across each and every fan, a wonderful unity of both power and vulnerability.
When the song finished, Amy joked, "It's all downhill from here". She thanked the audience and stated how nice it is to be back in Detroit.
After "My Heart Is Broken", Amy gave some insight into the tour.
"The tour is special for a lot of reasons. This is the very first time we've ever played with a live orchestra. This is the first time playing with these musicians. We pick up local musicians everywhere we go." There were extra cheers from the crowd, most assuredly for their musical friends and family who were having the extreme honor of playing on stage.
After the recognizable "Lithium", Evanescence started into the huge track, "Bring Me To Life". The crowd surged and brought out phone cameras to record. Paul McCoy's voice was replaced by sweeping music to pair with the chorus. A drummer and percussionist pounded away, still giving the song a heavy feel.
Throughout the show, the other members of Evanescence were seated behind Amy, adding electrifying guitar sound, and backing vocals from Jen Majura.
After "Imaginary", Amy thanked the crowd again. "You guys having a good time? This is the part of the show where the orchestra is tuning. So legit. I always wanted to be that cool."
After "Secret Door", Amy continued that one of her favorite things about music is that it can transport you. "We're going to play a song that has that power now more than ever." Evanescnece and orchestra started into a tremendous cover of the Beatles' timeless "Across The Universe".
Next was "Hi-Lo", featuring Lindsey Stirling, who took to the stage with a dazzling violin to beautifully present her musical gift to the song. The song is a collaboration between both artists on "Synthesis".
After the soaring track, "Your Star", Amy told the crowd, "We'd like to play a song for you that is one of our oldest". She explained that the song has become very special, though at first it was not her favorite. "From what we've been through together, what we've overcome. Thank you for giving this meaning."
The band and orchestra started into the haunting, "My Immortal". When the song finished, Amy blew a kiss to the crowd.
The band closed out their night with their new album's ending track, "Imperfection". After the song ended, Amy thanked the crowd one more time and said, "Give it up for your amazing orchestra! My amazing band…Our incredible conductor!" The band bound together and bowed, then leaving the stage being showered with applause.
After a brief intermission, the incredible Lindsey Stirling was ready to begin.
Lindsey is absolutely a stand-alone artist, bringing violin into the forefront of the music scene while melding classical music, electronic, dubstep, and even nodding to video games.
Her night started with a powerful poem, paired with images of her journey as an artist… both the disappointments and triumphs – criticisms and acclaim. She started into the tremendous track, "The Arena." Ms. Stirling covered every bit of the stage, all while playing flawless violin. She danced and jutted, clearly enjoying every moment of putting on such a wonderful show.
Next up was another original song entitled "Moon Trance". Large tombtstones made their way across the stage, along with dancers in skeleton attire. Lindsey also revealed a new black leotard costume with a white skeleton.
After the song finished, she took to the microphone, stage right.
"What's up, Detroit? Lions and Tigers and Red Wings, oh my! My name is Lindsey Stirling! I'm honored to be here with you."
After "Shadows", Lindsey began into "Shatter Me", for which Amy Lee joined her once again on stage. Ballet dancers and tutus were abound, emerging to contribute their artistry with the song. The trend continued throughout the night. When the song finished, a deafening cheer echoed over the theater as Amy Lee exited.
Next up was "Lost Girls, the opening track from "Brave Enough". Talented dancers gave a gorgeous portrayal of hardship and resurrection, with Lindsey joining them for much of the dancing. "Lost girls find a way" echoed through the speakers, giving the dancing a wonderful metaphor.
Lindsey walked again over to the microphone. "Thank you so much! You guys are amazing, Detroit! One of my favorite things about Michigan is that when you ask someone where they're from, they go like this!" Lindsey held up her hand, making a mitten shape, as all Michiganders do to point to their matriculating location.
"Hey, I'm from California!" She held up her arm and pointed in a silly fashion to a spot on it. "Where you guys from? Let me see it." The lights illuminated to reveal a packed DTE, each fan holding up their mitten hand.
"Thanks for traveling so far to come to the show tonight. Oh my goodness, there's so many of you! This is our biggest show of the tour so far. Not only is this special because it's Michigan, but also this tour in general is really special for me because I've known of Evanescence of course for years. I've been a casual fan for years!"
"CIRCA 2002" text flashed on the screen before a video played of Lindsey and friends dancing to "Bring Me To Life".
"Ok, maybe I've been a little bit more than just a casual fan. That was me at 15 years old! The reason that I decided to show that video tonight isn't to show off, as cool as it is. It's because I don't think anyone would have watched that and thought, 'Wow! This girl's got something. That it factor, there is it.' That's a pretty powerful thing to share because I had some big dreams. Even when I made that video. The thing is it was obviously not pure talent that made me who I am today. It was a ton of dedicated hard, hard work! No matter if you are 5 years old or 95 years old, we all still have goals. We all still have dreams. If you can see it in your head, even if nobody else can see it, I am standing up here as proof that if you believe it and if you dream it, you can make it happen. When we reach that moment, that experiene when you feel like you're living your dream, to me it feels almost like I'm flying. This next song is called 'Take Flight'".
Lindsey took to a raised platform that continued to climb higher and higher above the stage. She was wearing a dress whose fabric continued to ascend as well, rising many many feet in the air.
Next up was Lindsey's original song, "Crystalize". The audience cheered to greet the track, having recognized it right away. An icy backdrop was reminiscent of that song's music video. Toward the end of the track, a disco ball was brought onto the stage that reflected light in every direction, all over the theater.
When the song completed, an insightful monologue began over the speakers that presented the power of positivite reinforcement, even on something as simple as crystalized water.
After new track, "Hold My Heart", Lindsey took to the microphone again.
"Thank you so much, Detroit! Oh my gosh! you guys are amazing tonight! One of the benefits of being one of the first shows on the tour is that all the rhinestones are still on our costumes! One of the negative aspects is that we're all a little out of shape! I thought I worked out super hard to prepare."
The open dialogue she presented throughout the night was so very warm, welcoming and uplifting.
"One of the things that I have learned in the last few years is that we have a say in how we feel about ourselves."
She started into a very personal story about battling anorexia and depression when she was in college. She explained how she used to look at others who were happy and think they were born that way. With time and effort, she went from simply surviving to healing.
"I read self-help books, I went to therapy, I went to group therapy, I did positive thinking exercises, I just turned taking care of my mind into a part-time job. Now if I am feeling negative, I have the tools built inside of me where I can stop and say, 'I don't want to feel that way'. I know that's helpful for everyone that we can choose happiness. I know it's possible to very authentically love who are. There's that fake it til you make it but I know that it can actually become genuine and real. Find the light inside of yourself, it's there, share it with the world and make the world a brighter, more beautiful place. That's what this next song is about. It's called 'First Light.'"
Colorful dancers and a colorful backdrop highlighted the song.
After "Mirage", Lindsey encouraged everyone to put their hands together for the band and, "I'm going to ask you to stand up! This is pretty much the end of the show". The band continued into "Don't Let This Feeling Fade", also off of Lindsey's most recent album.
Lindsey made sure to introduce each of her dancers individually by name. "They've been working their butts off up here!"
She closed out the night with as much energy and passion as at the start, clearly giving her all to the performance.
Amy Lee reappeared to close the show seated at the piano with a lovely cover of "Young And Beautiful" by Lana del Ray. Lindsey and Amy faced each other as they played their interpretation.
The two incredible ladies united and bowed, with the crowd cheering wildly before their exit.
The pairing of Evanescence and Lindsey Stirling on tour together was certainly one of brilliance, with a live orchestra lifting them both to new heights.
The tour is sure to be a massive success, continuing through the United States into September.
Review and photos by: Tiffany Cuthrell